What is car detailing, valeting and washing?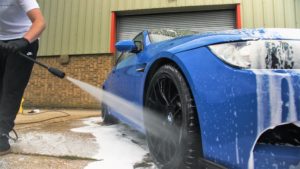 Getting asked 'What is car detailing' is something everybody in the industry would have come across, and distinguishing this from just washing, or valeting, your car is why we are here to explain the difference. After our quick guide, you will no longer need to ask the burning question.
Car Washing
That image you have in your head of the automatic car washes at your local garage, or the car washes where you park up and go do your shopping while the car gets hand washed, that exactly what a car wash is. A shampoo wash (Including wheels and tyres), a once over with a drying towel to stop water marks and streaks, and sometimes a spray wax. If you have paid for an upgrade, your car will get an inside vacuum as well.
Car Valeting
Car valeting is a step-up from your standard car wash, they offer different packages and can be a little more tailored to your specific needs. They tend to have a little more attention to detail and for a general vehicle user is a good enough job to clean the car inside and out.
When car valeting some of the products can often be a little slippery or oily, which is not great for your leather areas or steering wheel. If you pay for a top tier package, you will usually receive a polish of the paintwork and the windows cleaned inside and out. These packages can range from £35 up to around £75 but can sometimes be more depending on your location or company used.
Car Detailing
Often car valeting can be overlapped with detailing; Although if you wouldn't believe it, detailing is more about going into the finer details and areas of the car. Treating each area with enough significance that it isn't all done at once and can be completed on its own. Such as;
Vehicle Cleaning: 

Cleaning with a

snow foam

or/and a

citrus pre wash

will loosen dirt and grease that may be on the car from general road use without having to lay a finger onto your vehicle paintwork. These are simply applied, allowing suitable contact time, then washed off. This would then be followed by a hand wash with a wash mitt (No sponges in sight!). Generally, a hand wash will adopt the two-bucket and grit guard method; one with your

car shampoo

, and the other with just clean water, cleaning with the shampoo and rinsing your wash mitt in the water bucket to rid of any dirt or grime before using the shampoo bucket again.

Decontamination: 

Once the cleaning steps have been complete, you would decontaminate the vehicle with a

fallout remover

, removing metal contamination and brake dust from your vehicle, a

tar & glue remover

, removing tar and other hard to remove, sticky residues on your vehicle, then followed by a clay bar with a suitable lubricant, which will then further remove any deep contaminants in the paintwork, such as tree sap and overspray. Our advice is to feel your paint work before using any clay bar as if it is rough, then you haven't done a good enough job in the hand wash. You wouldn't want to rub this rough dirt into the paintwork with the bar.

Wheels & Tyres:  

When cleaning wheels, detailers will typically take it one step further and remove the wheels from the car enabling them to get to the back to clean hard-to-reach areas. They will also clean up the brakes and inner components such as inner arch linings. Wheels can be cleaned being left on to the car, but it all depends on the detail and how much time you have.
Even with the wheels on the car, at the very least they will clean and decontaminate wheels using specialist products like our Evolution or Gyrate wheel cleaners and Nebula-X fallout remover. This would be aided by using a shampoo to help cover the wheel better and get into the tighter areas. Most chemical manufactures offer a wheel soap for this, however, this is a bit of a gimmick as a traditional car shampoo would do the exact same job. A true detailer will always brush-in the correct product for the specific type of wheel to remove grime and corrosive brake dust in every recess.
Once the tyres have been cleaned, removing dirt and old tyre dressings (we recommend an all-purpose cleaner orcitrus pre-wash) then dried, it would then be time to finish them off with a tyre dressing. Many detailers prefer to use a non-silicone based dressing for a matt finish, however, a silicone based dressing with look shinier and be more durable.
Polishing
Much like a valet, there are different tiers to a car detail. Depending on the level of detail you require, you may even decide to go down the compound route to further correct and perfect the paint finish. This may involve hand polishing, but most often will involve the use of a machine polisher (usually, a fixed rotary polisher will be used, but a dual action can be a bit gentler on thinner paint) – Not something we'd expect from DIY washers, but from detailers.
This system helps to remove any imperfections while polishing the paint's surface, leaving a swirl-free finish. Machine polishers remove fine lines in paint, swirl marks and even orange peel, making the car look even better than when it left the factory. Both of our vehicle polishes leave an outstanding finish to your paintwork and contain carnauba wax.
Once all this is complete, a detailer will finish all paintwork with the application of a good wax or ceramic coating. This is not only to protect the work conducted, but also increase the longevity of the finish they have just spent so long on achieving.
Interior vacuuming and cleaning
On the inside
 detailers will vacuum all areas, as well as often using of a
carpet shampoo
to remove any stains. Other surfaces such as upholstery, trims and headlining, will also be cleaned and finished. They will often use special brushes or compressed air to clean any vents or dials found in the car. Windows and seals will also be attended to. Seats, whether leather or cloth, will be worked on with very specific products to the material. If leather, detailers often finish with a leather protector.
Engine bays
Engine bays will often be cleaned and finished when a vehicle has been sent to a detailer, making it the perfect finishing touch. They would usually use a degreaser for the cleaning of the bay, like our
Frequency
all-purpose cleaner, then finished with trim dressing like our product
Axis
can make any engine bay show worthy in a matter of minutes.
Finishing
Of course, there's also a whole finishing process involved, a true detailer will use the correct product to finish and protect every surface, whether that's restoring plastics with exterior plastic dressing, using an all-purpose polish to clean and protect door jambs, dressing tyres with a tyre creme, or simply making sure your windows are sparkling using a good glass cleaner. A real detailer deals with just that – the details.
In truth detailing is all about how far you want to ensure the longevity of your vehicle's paintwork and lifespan of the exterior and interior areas. We want our customers to understand how and what products help with this and to what extent they should worry about the condition of their car and paint. Therefore, we are more than happy to discuss with individuals about their needs.
Get in touch with one of the Molecular team to chat about how we can help